Dancing Paw® Heavy-Duty Stainless Steel Dog Grooming Kit

☀️ USA Company: In Stock At USA Warehouse
🇺🇸 US: Guaranteed Delivery Within 7 Days!
Grooming Your Dog Helps Strengthen Your Bond With Him❤️
Are you missing out on a great way to bond with your dog? If you're not grooming him, then you might be.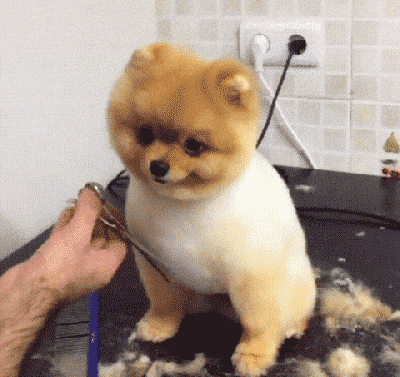 Your dog will learn that it's okay to allow his body and feet to be handled; you will be building trust with your canine companion. As for you, it's very relaxing and satisfying to spend more time with your dog while helping him look and feel his best.
Why Grooming By Yourself? 
❤ Regular grooming keeps your dog clean, healthy, and comfortable. Trips to the professional groomer can really add up and you can save some money by grooming your pet at home with our Dancing Paw® grooming kit.
❤ Grooming can be a good bonding experience with your pet and we hope you enjoy this new skill.
❤ Once you master the basics, let your creativity flow and try out some of the more adventurous clips and shears.
✂ COMPLETE PET GROOMING KIT: Dancing Paw® grooming kit includes 7.0" Straight Scissors with Round Tip for trimming, 7.0" Thinning Scissors, 7.0" Curved  Scissors, 7.5" Bonus Grooming Comb, and a Cleaning Cloth, Stylish Black Leather Case. They will cover your basic everyday grooming needs
 ✂ PREMIUM QUALITY: Dancing Paw® pet grooming scissors and comb made of high-quality stainless steel to last for a long time and without rusting, durable functional and very sharp pet scissors can help you to quickly and easily trim hair and create a hairstyle for your lovely pets. our dog grooming scissors can make you feel happier while enjoying the process of pet grooming
✂ COMFORTABLE DESIGN: Engineering structure design allows you to grip them with ease and reduce the labor intensity, The handles and the contours are designed to ensure an effortless and easy way of working
✂ MULTI-FUNCTION: Straight scissor is mainly used for pet hair flat parts. Thinning shears used for thinning hair, let the hair after pruning more natural and beautiful. The curved one is designed for up-Curved, this design ensures the minimum risk for your pet's sensitive areas such as eyelashes, nose, face, ears, belly, hips, etc.
✂ IDEAL FOR HOME USE: The wonderful Dancing Paw® pet grooming kit suits all your pet's grooming needs and requirements. Cold treatment ensures the hardness and durability of the pet scissors, dog grooming scissors have a strong sense of balance, these scissors will stay sharp through many hours of use! The bonus Steel Grooming Comb will help you in removing mats and tangles during the grooming sessions.
Why should I buy the Dancing Paw® grooming kit?
Trips to the professional groomer is very expensive and you can save some money by grooming your pet at home with our Dancing Paw® grooming kit, apart from this, grooming your pet is a perfect way to establish a good bond with it, you can use this time to strengthen your relationship with your dog and to cement what hopefully will be a lifelong friendship
Q- How Dancing Paw® scissors are different from other brands?
Our scissors are designed by highly qualified grooming specialists after many years of experience. In the 4pc set, each one has its own unique design and usage, this grooming kit is a combination of the complete tools required for your baby grooming.
Q- How often should I groom my dog?
We recommend having your dog groomed every 4-8 weeks depending on breed and coat type. Daily brushing and combing is recommended between grooms in order to keep your pet's skin and coat in optimal health.
Q- I am not sure, my dog will stand that still while grooming him?
These scissors are specially designed by highly qualified and experienced groomers, we are 100% sure your baby will like and enjoy the grooming time.
Q- Are these scissors suitable for grooming large dogs?
Yes, they can be used for any size dog.
Q- I am left-handed. Is it suitable for me?
Yes, this kind of scissors not only suitable for right-handed use, but also for left-handed use. 
Q- Are these stainless steel? Or some other metal?
These dog scissors are all made of heavy-duty stainless steel.
Q- Do you have any return or refund policy?
Yes, we have 30 days no question asked refund policy, if you don't like the product or if it doesn't fit your need please let us know and we will be happy to issue a full refund to you.
Dancing Paw® Pet Grooming Kit Includes:
▪1× Straight Scissor 7.0 inch
▪1× Thinning Scissor 7.0 inch
▪1× Curved Scissor 7.0 inch
▪1× Grooming Comb 7.5 inch
▪1× Cloth to clean
▪1× Black leather case
✂️ Straight Scissor: mainly used for fine pruning, such as the hair around the eyes, ears, nose, paw. 
✂️ Curved Scissor: unique design angle. This allows you more CONTROL when you are grooming your pet.
✂️ Thinning Scissor: ideal to finish the hair around the nose, ears, legs and for the rest of the body.
✂️ Grooming Comb: FANTASTIC to remove knots, dirt and prevent the hair from stretching or getting tangled.
USA STOCK & DELIVERY IN 5-7 DAYS 🇺🇸 
All orders are shipped within 24 to 48 hours of you placing the order using DHL eCommerce, USPS depending on your location and fastest available service.
Track your order easily anywhere & anytime on our "Track Your Order" page.
The typical delivery time frame is between 5 to 7 business days however, We have seen some delays in both USPS and DHL orders over the past several weeks due to the operational hiccups attributed to COVID-19) We are operational these days and working very hard to deliver the product to our customers on time!